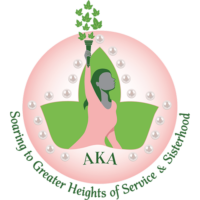 Greetings from the President
The members of Alpha Kappa Alpha Sorority, Incorporated®, Alpha Mu Omega Chapter are proud to welcome you to our website.  For more than a century, Alpha Kappa Alpha has been a change agent with a clear goal of providing "service to all mankind", and we are proud that Alpha Mu Omega has followed along the same trajectory.  Alpha Mu Omega is BECOMING!  As Michelle Obama states, "BECOMING isn't about arriving somewhere or achieving a certain aim.  [We] see it instead as forward motion…A way to reach continuously toward a better self.  The journey doesn't end."  Our chapter is committed to rendering relevant service because our community is also BECOMING and deserves the best!
Chartered in 1929, Alpha Mu Omega has been committed to serving the community for 94 years.  AMO is home to the designer of our sorority crest, Ms. Phyllis Wheatley Waters, and four former international officers of our sorority: Mrs. Maenelle Newsome, Mrs. Annetta M. Lawson, Ms. Yvonne Perkins and Mrs. Nadine C. Bonds.
Our current international program theme is Soaring to Greater Heights of Sisterhood and Service which includes six initiatives: Strengthen our Sisterhood, Empower our Families, Build our Economic Wealth, Enhance our Environment, Advocate for Social Justice, Uplift our Local Community. Our local signature programming includes the Debutante Cotillion and Scholarship Program, the Rosebud Program, and the Rose Petals Program which benefit girls in the 6th through 12th grades.  Collectively, these programs allow AMO to showcase our commitment to sisterhood, scholarship and service.
The strength of our chapter lies in the diversity of her nearly 600 members.  Our chapter members range in age from 22-99 years of age and represent women in the fields of education, healthcare, law, social services, and a variety of other professional careers throughout the Indianapolis community.
To our sisters who are looking for a chapter home – look no further!  AMO is here for you!  Please contact membership@akaamo.org for more information about reactivating your membership or visiting an upcoming chapter meeting.
We encourage you to visit our website often to stay aware of our upcoming programs and service opportunities.
Yours in service,
Miriam Hornbuckle Grays
Alpha Kappa Alpha Sorority, Inc.
Alpha Mu Omega Chapter
president@akaamo.org

Tickets are on sale for the 2023 Debutante Cotillion.
Purchase HERE.
Get To Know Alpha Mu Omega